5 Best ways to Hack Wifi On Android – WiFi is a remote innovation that is favored in current time as a method of Internet Association. In any case, this remote system can be gotten to just when you have a WiFi connector on your gadgets which imply your gadget must be WiFi empowered to get to the system.
The utilization of WiFi system as gone so wide that the wired innovation is becoming dull in innovation. In spite of the fact that, it's better thought to utilize remote innovation since correspondence or systems administration process can be executed from a separation contrasted with the wired innovation that obliges client to be at the nearest go. In any case, the cons about WiFi innovation is that it is less secured contrasted with the wired innovation and Because of this Wifi Hacking is required.
Also Read: 10 Best Android 7.0 Tips & Tricks 2017
5 Proven Ways to Hack WiFi utilizing Android Phones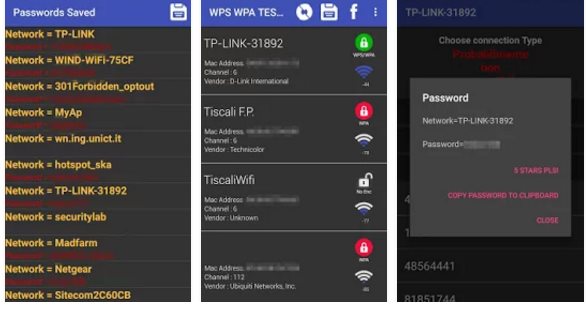 The WPA, WPS analyzer application finds and hacks into any un-secured WiFi organize, I likewise furnish you with the WPA, WPS and WEP set to the switch. In any case, the application requires SuperSU consent to work flawlessly, and that implies that your gadget should be attached to make utilization of this application. The upgraded adaptation of the application doesn't require root access from Android Lollipop and marshmallow clients.
To make utilization of the WPA WPS analyzer, basically, download it from Google Play store, or download the exceptional variant of the application. Obviously, the rare variant accompanies premium elements. Once the application is downloaded, allow root get to if your Android is running on working framework underneath candy, then output for systems and you're ready.
Technique 2: (utilizing WiFi Password scrapper)
WiFi secret key scrapper is another valuable instrument used to hack wifi watchword utilizing Android gadget. With this apparatus, you get the opportunity to check for WiFi systems, spare their passwords and you're ready. I've utilized the application for some couple of times, and I can state, it has exactly the intended effect. The application gives clients WiFi choices having the best flags.
Not at all like WPA WPS analyzer, the WiFi scrapper doesn't require root access on your Android gadget. You should simply download WiFi scrapper from App Termite. Keep in mind to empower "Unknow source" mode on your Android gadget which can be found in Settings >> Security >> then look down and empower. Once you're down, download the application, dispatch, revive and accessible WiFi systems will appear to you. When you see a green bolt symbol, just tap on it and interface… Boom…. The watchword will appear to you, and you can appreciate the WiFi organize.
This is an extremely specialized strategy. However, it works consummately. Despite the fact that, you'll have to root your android gadget furthermore ensures that your gadget contains the Broadcom bcm4329 or bcm4330 chipset. On the off chance that your gadget has any of that chipset, then essentially continue to download the Bcmon application.
Once you've downloaded the Bcmon application, then the application will start to screen the Broadcom chipset on your gadget. Obviously, you've to permit obscure source on your gadget to introduce the application (since it's an outsider application that isn't downloaded in Google Play store).
Presently, dispatch the application, "Introduce firmware and instruments" and afterward empower Monitor mode alternative. Once you're done, just download Reaver, and introduce on your android gadget. The fundamental reason for the Reaver application is to uncover the WPA2 passphrase by splitting the WPS stick.
After the establishment of Reaver application, dispatch and acknowledge terms, then the application will look over accessible get too focused, just tap on any get to direct you wish toward the break from the accessible ones. Keep in mind to check the "Propel settings box" to confirm settings. When everything is set, tap on "Begin assault" and get to focuses will be split.
Strategy 4: (utilizing WiFi Kill)
This application makes me feel like the BOSS. The motivation behind this application is to hack into any WiFi systems and separate gadgets on the WiFi arrange, at the same time, gobbling up the transmission capacity of that system. On the off chance that this kind of hardware falls into the wrong hands, it's then an unsafe instrument.
Some different elements of the instrument are to snatch movement and site went by the separated gadget, indicates byte that is being exchanged, demonstrates organize names and different elements. The application works superbly on Android 4.x+, and it's beautifully easy to use.
Just download the apparatus, and you're ready. Kindly don't make utilization of the instrument illicitly to be on a more secure side.
Technique 5: (utilizing ZAnti tool)
Also Read: 10 Best Android 7.0 Tips & Tricks 2017
This is an entrance testing Android apparatus that is likewise fit for hacking Wi-Fi organize passwords utilizing Android telephones. The primary motivation behind this device is to check the security level on any Wi-Fi arrange, on the other hand, it can without much of a stretch assault any weak WiFi organize that is found. So don't try searching for routes on the most proficient method to hack wifi when you got ZAnti instrument.
Some different elements of this apparatus incorporate, checking Mac address and helpful subtle elements of the system, changing Google comes about on WiFi, changing Google pictures, session commandeering on the system and some more.