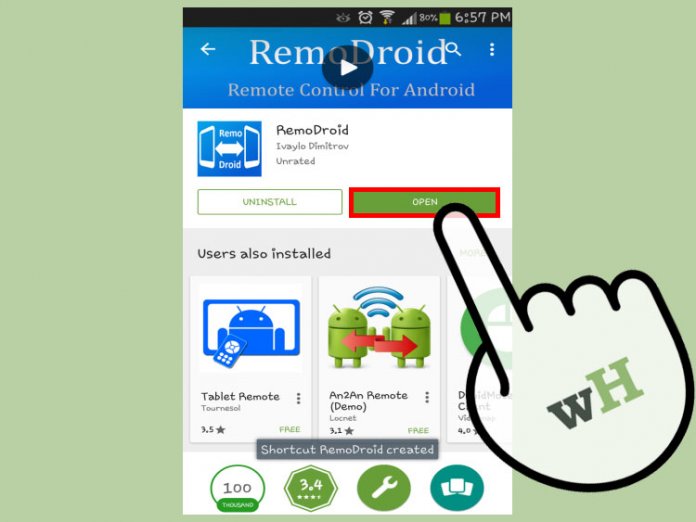 When we are talking about controlling the Android from another, it means accessing another Android with the help of some apps. Literally, we are not controlling the Android device, but sharing or accessing the device to solve some issues or to help the user. These apps will guide you to access remotely all the service of that other Android. Let us have a look at these remote control apps.
#RemoDroid
This popular app that works well on Android smartphones and tablets. Its features include screen sharing, remote control with PC and Android device, multiple users' supports and connection management.
#Team Viewer
Many of us know about its role to access one PC from another. Likewise, it has the Android Version that helps to access one Android from another. The app needs user ID and password of another Android for complete access. The features included spontaneous touch and control gestures, full keyboard functionality, multi-monitor support, video and sound transmission in real time and maintain the highest security standard.
#AIO Remote
Create your own tailor remote control to control applications on your PC. It is possible with Wi-Fi or Bluetooth. You will able to control another Android device. It supports Windows, Linux and Mac. The app provides innovative mouse touchpad control, browses your files, and opens it on the computers.
#Join.Me
This app is pronounced for fixing issues on another phone. In fact, it is also cool for team discussion. One can create the own personal link and set personally branded background image. Also, swap presenters during meetings. This app allows you to set your own background image in the setting. In fact, you can also have an access to the desktop version.
#Tablet Remote
You can control an Android tablet or a phone from another Android phone using this app. You can control its brightness, type words and volume by sending the input like, "Menu", "Search", and "Home" etc. In fact, "Play", "next" or "previous" some of its buttons which are good for watching movies.
#ScreenShare (Phone to Tablet)
This app permits to share photos, videos, web pages, music and various kinds of documents from a phone to tablet without any wire. You can share your phone content and play with the app. Without Wi-Fi, you can do your work with ScreeShare Browser.
#An2An Remote
This app will help you to access another Android device like the clone. You can use your phone as a mouse, keyboard, and touchscreen to work on the target device. You can use any other well-matched device as a Bridge. You can change a wired mouse, controller or keyboard in wireless. You can also try touchscreen apps on devices that have no physical touchscreen.
#Android VNC Viewer
This app has plenty of features that can please you instantly. Focusing on the features we can highlight on Import/export settings, zoom control, keyboard and mouse control, save connection information, connect to the PC which is running a VNC server, the store sent texts session to session and contains lots of customising features.