Top 5 Websites To Order Pizza Online In India  – There are thousands of pizza restaurants, and most of them are doing a brisk business.  Though pizza is not a cultural food of India Indians, love it so much. It is a delicious and convenient meal.
Here we are providing you top 5 pizza order websites which will help you in case you get an instant craving for pizza.
Websites To Order Pizza Online
#1 Dominos Pizza
Dominos Pizza Inc is an American pizza restaurant, and the site is owned by Jubilant Foodworks Limited. Domino's Pizza is a pizza chain with the help of which people like to order.
Ordering the pizza online has become more convenient and comfortable with Dominos OLO platform.

We can order online for pick-up and home delivery.
We can place our order from the predefined menu and even avail coupons.
The steps to order Dominos pizza online are:
On the top of the toolbar type in your browser type the URL pizzaonline.dominos.com

Choose any one option between delivery or pick up.

Just click on the image that displays pizzas, dessert, sides, soft drinks.

There as an option of customizing now. By clicking this option, we can choose toppings and even replace at most one topping without extra charges.

We can also choose the type of crust and the size of crust – medium, large, regular

Click on

add to cart

and continue shopping else click on

the buy now

.

After clicking the

checkout option

fill in your details, your delivery address and the time of your order.

You can avail discount by click

Got a coupon?

Link.

Click on place order and make payment either by card or cash.
#2 Pizza Hut
Pizza Hut is one of the most popular pizza destinations in India. Pizza Hut offers best and fresh food which can be ordered in an easy way. It is a leading casual dining restaurant brand in India.
It offers pizza as the main course option in their restaurant.

This restaurant is known for offering menu consisting of its signature pizzas, appetizers, pasta, desserts, and beverages.
Pizza Hut is recognized as 'Most Trusted Food Brand' for seven years in a row.
Pizza Hut is the world's largest affordable casual dining restaurant chain. It has over 13,200 restaurants across 97 countries.
The steps to order pizza on pizza hut India online are:
Go on to the website

https://online.pizzahut.co.in/

for ordering pizza for delivery or pick up.

On the menu, you can select pizza, sides, meals and check out offer applicable for that day.

Click on start your order link. Check delivery or pick up for your location and the nearest pizza hut restaurant available.

Choose the time for your order delivery. Click on continue.

Choose the pizza and the crusts. Click on add to cart option. Here you can add extra cheese or add more toppings. Click on checkout.

Here you can apply coupon by viewing coupons applicable for that day.

After checkout, you can make payment either through a card or by cash.
#3 Food Panda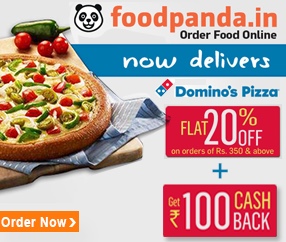 Foodpanda is a brand that provides online menus from the excellent selection of delivery restaurants around you. You can download the app or order online on their website. The restaurant index can include address and delivery hours.
The steps to order pizza on food panda online are:
Go to the website

https://www.foodpanda.in/

.

Choose your location and area. Click on

show restaurant

option.

In the left side, there will be a cuisine option from where you can select pizza option.

It will provide you various pizza restaurants near your location.

Choose your restaurant by clicking on it. A menu of the restaurant will be displayed.

Choose your products, add them to cart, avail any coupon if you have. Click on place order

Make payment through cards, wallets, net banking or by cash.
#4 Papa Johns
Papa Johns' is a pizza brand which aims at providing which is carefully crafted with delicious, superior-quality ingredients and toppings. You can order pizza online or carry out.
This pizza brand runs the third largest chain of pizza in the world.
The steps to order pizza on Papa Johns online are:
Go to the website https://www.papajohns.com/.

Choose your country.

Click menu option to view menu and offers. You can choose from specials, veg pizzas, nonveg pizzas, beverages, desserts.

Add the products to cart. Avail any coupon and place your order.
#5 Swiggy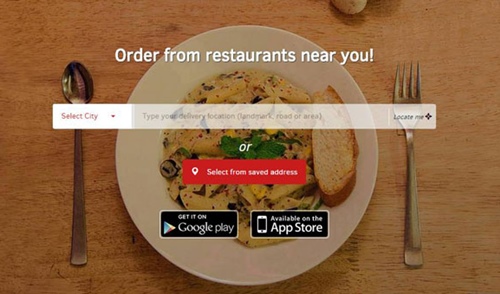 Swiggy is a website that helps us order food especially pizza online from over 9000 restaurants.
The steps to order pizza on Swiggy online are:
Go to

https://www.swiggy.com/

.

Choose your location or click on locate me the option. And click on show restaurants option.

Choose the restaurant to order pizza.

Place your order from the available menu.
These five websites are the best to order a pizza and have a splendid time either with friends, family or alone. With the help of this article, ordering a pizza is now not a big task.