In the process of being accustomed of using a smart phone, there are always some obvious pros/cons and one of them is losing your messages and not able to recover them.
Deleting a text message by mistake (or maybe out of rage) can really come back to haunt you later. Whether it had an emotional value or some important piece of information you really needed, you can either guess what it was or have a go at recovering the deleted message in your android phone. So, let's take you through the
Steps on how it is possible to recover deleted messages on an Android phone:
1. Connect Your Android Phone to Windows:
First and foremost, you need to launch Android Data Recovery. You need to link your phone to a Windows with the help of a USB cable and understand how to recover the messages. Don't worry as your phone will be completely secure during this whole process of recovering text messages.
2. Turn on Android USB Debugging:
Turn on your phone and follow the steps below for debugging your phone using a USB and then click the 'Ok' button
Go to 'Settings' > 'Applications' > 'Development' > 'USB debugging'
3. Select Messages to Recover:
When you have conducted a successful debugging session, it is the right time to choose your wanted file types and then click on the tick box followed by 'Message' and click 'Next' to go on to the next step of recovering the text messages.
Also, please keep in mind that this whole process can also recover your media files like pictures, videos and music.
4. Analyze Device and Get Privilege to Scan Files:
In this step, you will be given an option to scan your SMS data. Please go to your Android phone settings and tap 'Allow/Grant/Authorize' access on the pop-up window. However, if you see there is no such prompt on your device, please click 'Retry' and try again to scan the SMS data.
5. Preview and Recover Text Messages from Android:
Before you go on to the process of recovering your text messages, you are also given an option to read deleted text messages in your phone. You can simply check the name and dates of all the text messages. You can choose to click the name and get desired information of your messages from that contact.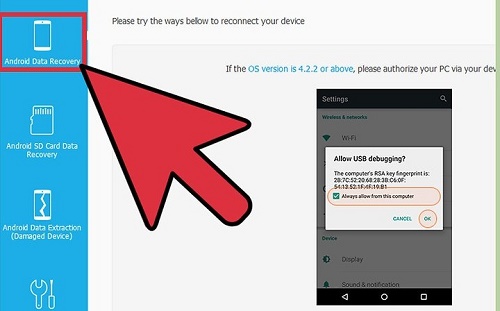 All these deleted messages will appear written in a red font while the existing ones will show as black. Click the items you want in your inbox and then click 'Recover' button in your phone, the program will simply save these recovered texts on your Windows PC.
Also, some other interesting tips for you to ease the process of recovering deleted messages from your android phone –
1. All your recovered android text messages will get saved in a CSV/HTML layout that you can go and change from the settings of your phone anytime
2.Always remember to create a backup in Android smartphone for your texts regularly as it helps in dealing with most loss data situations.