There was a time when accessing your computer was only possible when being physically present there. In case any information or file was urgently needed you had to rely on someone and lose your security in the bargain. The technology has facilitated you to access your PC with the help of your smartphone or tablet from any remote spot. There are many easy options and apps available to make your life hassle free.
Here are few easy ways to remotely access your computer :-
Chrome Remote Desktop-
Chrome Remote Desktop is a smart and easy way for having this personal go-to remote access. It is easy to install and function with any device such as Windows, Linux, Mac, android, and iOS. It has its limitation as only chrome users can use it. This may not be a huge issue as maximum people use chrome.
► How to set-up chrome Remote Desktop-
First you need to install Chrome Remote in your browser. Get it from Chrome Web Store and install it, that will take few seconds. After installation, launch the app from Chrome's app menu and makes it the first link on the bookmark bar. Chrome will offer an option for enabling remote connection and guide you to install a small utility. The Chrome guides you step by step for the 'user to user' screen sharing.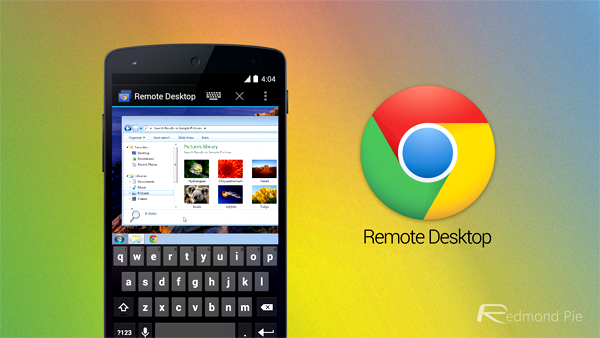 ► PIN-
After the utility is installed the Chrome Remote desktop will ask you to enter PIN, use any combination that you can remember easily but other would toil guessing it.
► Finishing-
After the PIN is accepted, it takes few seconds to connect remotely. When done, the computer and device will show up in the list. After the set-up is complete, you are ready to operate your PC from anywhere on any computer by logging.
Chrome Remote Desktop for your Android
When all is set to operate, it's the time for Chrome Remote Desktop app to be loaded to your Android or iOS device.
► The process is the same for downloading and installing the app on all android devices as was on the computer. Once you launch the app, the list will come up with your computer's name, just tap it and you are connected and ready to function.
► The system will request for PIN, here again, there will be two options. First you can remain connected without the device asking for PIN every time and other is to enter PIN every time you wish to access your PC remotely. The choice is all yours.
But for safeguard action, it is better if PIN is entered every time you open the device to operate. Just for a logically simple reason, if you lose your android device, your computer would be safe and uncompromised.
Specific Remote Access software-
There are other many Remote Access tools such as TeamViewer and more of such software. They work for one or more devices that can be accessed by them through smartphones and other distant computers. Just download and follow the instructions and enjoy the remote access to your computer.