Amazing Backpacks You Need to See in 2017 – Portability is the first thing that most of the users want while they are looking to buy up any device or the accessory if they are to carry these with them from any location. Although there are many many small devices there which could be greatly portable, they do not tend to provide you with that amazing quality that you either wish to have. Talking about the backpacks, these are great technology hidden portable things that you could ever prefer to buy. These could be of different kinds, and there might not be any issue carrying these with you all the time, although you would love these for their functions. It could be the bit confusing to find out those amazing backpacks from that huge selection range; you could end up with some usual kind of backpack. To help you out tap only on those best available backpacks we have provided the five amazing backpacks. Just check these out to know more about these!
Also Read: 5 Huge Updates Coming to Android Devices
Amazing Backpacks You Need to See
#1 Beatbringer
With that amazing design and awesome sound quality and performance hidden in that portability, this backpack is the must to have a companion for you if you have planned to go out for some trip with your friends. The best part of this backpack is that you just don't get less of any features too in such a compact design and the durability factor is also great. Overall it is the masterpiece from the made by the team of engineers!
#2 Lumos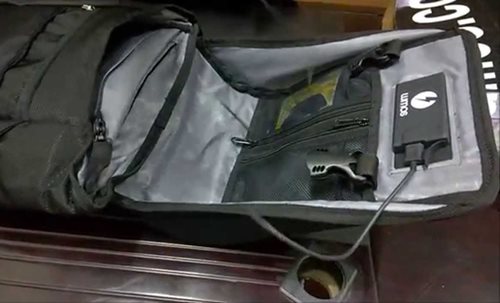 This is kind of backpack that is fitted with some sort of high-quality lights that all work to show up the signals whenever you turn on your bike while riding, it also have that bike lights, turn signals and the automatic brake indicator implemented inside it! This would be the great companion for the riders, cyclists, etc.!
#3 Joey
Contact and super versatile human back suspension system that helps to direct the weight towards the hips and hence lays up the JOEY right against your back. This is the backpack meant for molding the body structure of the humans or could also be used to enhance the quality loop of the body!
#4 Backpaix
 The backpack that would save you in the places where there is no electricity for charging up your smart devices, talk about the picnic trips, etc. It is full of features like shoe pocket, side access, charge port and for the protection ceases it is totally weather proof!
#5 Ampl Backpack
Smart backpack that helps you charge all your gadgets, devices in a brilliant way. You have to put those devices inside the backpack which is extremely safe from all those everyday abuses, and then using up the certain mobile app you could manage up the charging amount for all those devices! Small to big devices could be easily charged, and hence the laptops would also be charged nicely using those sockets inside the bag.
Hope that the five amazing backpacks which we have listed above in this article are what you might be looking for and also you have liked these all. If you are planning to buy any backpack of a certain category, then the above list might help you out choose the best one. Just buy up those you have liked up from the list and enjoy them up. For your opinions comment below in this article!