Samsung Galaxy S8 has plenty of exciting features discovered when unraveled by installing Custom ROM. For installing ROM, first the device should be rooted then installation of custom recovery is done. Rooting facilitates newer user-friendly options with custom recovery installation on the Samsung Galaxy S8 device.
There are a couple of systematic ways the rooting in Samsung Galaxy S8 can be done.
Rooting is the process to unlock android devices and flashing Custom ROMs. Besides ROMs, it helps tweak inner hardware, and transform the software. It installs custom binary in android device and in return get 'superuser' permission to access more features. Although most of the users know about rooting but they fail to execute it as per the procedure.
#Way to do it –
Before beginning to root the Samsung device, ensure that device is 60 to 75% charged. The method described here is only for the Samsung Galaxy S8, this will not work for any other android device. One must be careful before starting to root the device, this can turn the warranty of the device null & void. Just follow the right path for rooting of Samsung Galaxy S8. The process is reversible and you can un-root that anytime.
# Downloads-
For installation of custom recovery such as TWRP download and install the following:
 Minimal ADB for Windows
 Odin 3.12 for Windows
 TWRP recovery for Galaxy S8
 Magisk v11.1 shifted on device
Download all these files as above and install, then enable USB debugging and OEM unlocking in the developer option under the developer setting.
#Method
 Connect Galaxy S8 with PC via USB wire.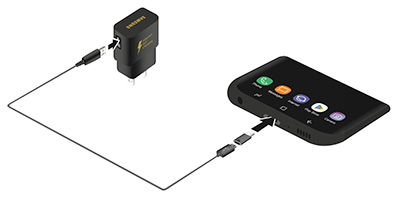  Run the Odin tool for Windows, now enter
 Now, enter download mode on your phone by switching off phone. Then, press and hold Volume down, Home, and Power buttons as well. Continue till the download mode is seen on the screen.
 When the device connected to Odin and is in download mode and, an ID in ID:COM box will be visible. If it does not then check for USB drives of the phone.
 It's the time to select downloaded twrp-3.x.x.tar file, for installation swipe the white arrows to the right for installation confirmation.
 Now check if Magisk is being installed, when it is visible reboot the system when it pops out.
 Open application drawer and wait for Galaxy S8 to boot into android.
 Launch Magisk Manager application and proceed to Play Store when asked. Update Magisk Manager application.
 Click Auto reboot and F.Reset time in option tab
 Press the Start button the process will achieve TWRP installation.
 As the process is completed a green button wit PASS will appear. Boot into the device by pressing Home+ Volume Down + Power buttons.
 Flash the Magisk-v11.1 zip file and reboot. Now navigate to install Magisk Manager from Play Store.
Congrats!! Now you have achieved what you wanted rooting and installing Custom ROMs on your device. There is a procedure of rooting Samsung Galaxy S8 without PC too.